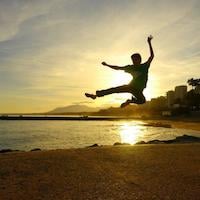 Filed by Mitchell Friedman

|

May 05, 2016 @ 6:55pm
Just after changing his Twitter background to display the proud words "Presumptive Republican Nominee, Donald J. Trump," your favorite billionaire moved his tiny finger to hit upload on a great little photo of his orange little face. That photo contained his "Happy #CincoDeMayo" wishes for a community he's made some controversial comments about in the past.
Happy #CincoDeMayo! The best taco bowls are made in Trump Tower Grill. I love Hispanics!
The media immediately jumped on the debatable claim—you know, the one about the "best taco bowl."
In fact, there is no taco bowl on the Trump Tower Grill menu, according to the prestigious outlet NBC News, which hopefully sent 35 ravenous reporters to fact-check. There is, however, a "Taco fiesta!" meal at the nearby Trump Tower Café.
Hillary Clinton jumped on the post as well, but focused on the only slightly more important implication of Trump's "love" for Hispanics.