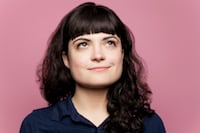 Filed by Jaime Lutz

|

May 09, 2016 @ 6:44pm
You've seen the ultimate power of the hydraulic press to destroy, and you've seen it test the theory that paper can only be folded seven times—but what if it could create by folding something? That is what happened when the giggling Finn behind the hit Hydraulic Press Channel tried squishing folded standard aluminum foil into a surprisingly durable metal plate. All hail the hydraulic press god, it is the alpha and it is the omega:
And in case you're wondering why the foil did not explode like that folded paper did when exposed to a hydraulic press, Reddit user mocl4 gave an answer:
Aluminum is a soft metal. Aluminum does not allow tons and tons of force to build up until it releases all that force in an explosion. Instead, it gradually deforms as more force is applied and releases all the force over a longer period of time. This is why after each time it goes under the press it comes out looking like a pancake. A brittle material (the opposite of aluminum) would not look like a pancake and would instead explode like the paper did in one of his previous videos.