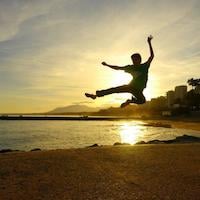 Filed by Mitchell Friedman

|

Sep 07, 2016 @ 11:43am
After a man identified solely as Pietro L was spotted "taking out his penis" in front of university students in Cantania and "practising autoeroticism" (which is the classiest euphemism the Italians could come up with), the highest court of Italy overturned his three month prison sentence.
This means that Pietro L has paved a slippery first, crusty later road for all public masturbators in Italy.
The court justified their decision, saying "the act is not included in the law as a crime," thanks to a new government reform.
According to the Independent, this means "the court has eliminated the criminal aspects of sentencing for obscene acts in public places."
And yet, the fury of innocent bystanders will hardly be affected by this law.
TELL ME WHY THIS DUDE WAS RUBBING HIS PENIS SITTING ACROSS FROM ME. I WENT OFF! I'M SO MAD RIGHT NOW. GOT HIS FACE ON VIDEO THO. HE BETTER HOPE I NEVER SEE HIS NASTY ASS AGAIN! (FOR LICENCING AND USE PLEASE CONTACT LICENCING@VIRALHOG COM

Posted by Deanna G Carter on Monday, August 15, 2016
Reportedly, the man will still receive a fine between $4,000 and $6,000 after the case returns to the lower court.