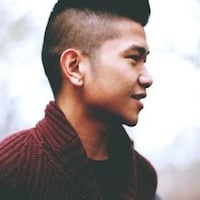 Filed by Keith Estiler

|

Apr 04, 2016 @ 9:18am
On Saturday, construction worker and Mexican-Canadian Diego Reyna posted a photo of himself on Facebook sitting beside a Mexican flag on top of Vancouver's Trump Tower. According to the post, Reyna placed the flag on the tower (still under construction) because he was fed up with The Donald's relentless insults about Mexicans since his candidacy began.
"I put a Mexican flag on the roof of the Trump Tower in Vancouver, just to show that he is benefiting from us and that we are working hard on his projects and that we are not all criminals," wrote Reyna.
WHY DID I PUT A MEXICAN FLAG ON THE ROOF TOP OF TRUMP TOWER VANCOUVER, ??????
Because from the concrete pouring, finishing, drywall, taping, wood forming and general labour, Mexicans were there, building it,
doing good work, the comments Trump has made about us, did not stop us from doing the high quality work we have always done, in our home country or when we migrate to the US/Canada,
MR Trump, we did our best work, your tower here in Vancouver is premium quality, and we were a crucial part of it, not just Mexicans but immigrants as a whole, like your ancestors were, you are not native american, the insults you have said about us, have not changed our work ethics, while working on your tower Mexicans
didn't steal anything nor raped anyone, we just did the best work we could possibly do, for my ourselves, our families and the future tenants in your building, PLEASE HELP ME SHARE THIS MESSAGE SO IT CAN GET TO MR TRUMP'S NEWS FEED, THANKS !!!
‪#‎trump‬