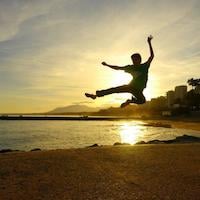 Filed by Mitchell Friedman

|

Mar 04, 2016 @ 2:50pm
News broke Friday that a construction worker may have found O.J. Simpson's murder weapon back in 1998 and given it to an off-duty cop who kept the secret (and the knife) to himself until earlier this year. It's a revelation that has spurred the LAPD to continue their investigation, and one that's reigniting the crime drama that comes along with the words "Juice" and "new evidence." Here are the best tweets in response to the news.
1.
It's weird to think if OJ has murdered his wife during his career he could have faced as much as a four-game suspension.

— Mark Agee (@MarkAgee) March 4, 2016
2.
"Oh yeah." - The dude who found OJ's bloody knife watching American Crime Story this week

— philippe iujvidin (@philyuck) March 4, 2016
3.
4.
The OJ knife was found in 1998 and a cop only now turned it in. If I'm one day late paying an LA parking ticket, they add $40,000.

— ⚡David Pokémangelo⚡ (@MrDavidAngelo) March 4, 2016