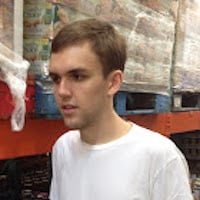 Filed by Bijan Samareh

|

Sep 21, 2015 @ 12:01pm
Two 16-year-olds from North Carolina were arrested for sending nude pics to each other, even though they are dating and both totally cool with it. Because of some weird NC state laws, they are being charged with sex crimes... against themselves. If you can't tell by the photo below, they look just about as sex offender-y as an empty granola bar wrapper, which is to say, not at all.
One of the "offenders," Brianna Denson, 16, was charged with two counts of sexual exploitation of a minor—one for "for making her photo" and another for "having her photo in her possession" (?). The other offender, Cormega Copening, now 17 (he was 16 at the time of the charges), is being charged with five counts of sexually exploiting a minor—"four for making and possessing two sexually explicit pictures of himself" and one for having the picture that Denson sent to him.
Denson has already been to court. If she stays out of trouble, her misdemeanor charges will be dropped and she'll be fine. Copening hasn't been to court yet, but things are looking much worse for him. He's already been kicked off his school's football team, and was prosecuted as an adult. He took a plea deal rather than face the possibility of prison and having to register as a sex offender.