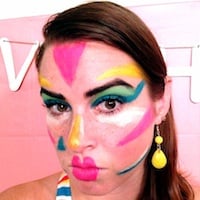 Filed by Ashley Bez

|

Sep 01, 2015 @ 12:57pm
This story will help you see the good in both teenagers and New Jersey.
https://www.facebook.com/annette.palaypaylewallen/posts/10153560318003664?pnref=story
17-year-old Daniela Bossi works in a pizza shop in Hamilton, New Jersey. When her family friends Rick and Annette Lewallen came in for a slice last week, Daniela left them a sweet note and covered the bill using her tips as a kind gesture to the couple because Rick is battling brain cancer.
https://twitter.com/thephillyvoice/status/637378324017336320
The note read, "For putting up the biggest fight, this one is on me." Rich and Annette were so moved they thanked Daniela for her kind words on Facebook, saying "The world is a better place because of people like you."
Annette told NJ.com that Rick is "a real positive guy," and he's been staying upbeat and active through his experimental cancer treatment at Memorial Sloane Kettering.