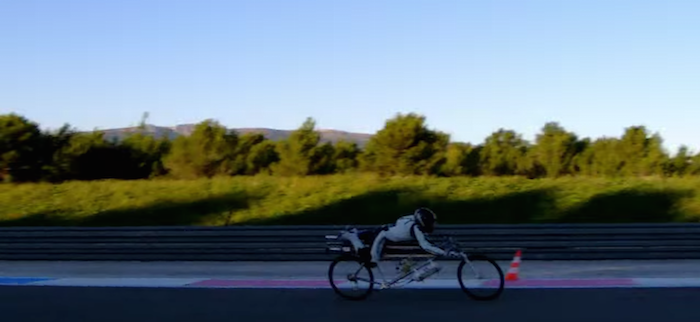 It's a one-speed. Fast.
If you had asked me as a child how to break the world speed record on a bicycle, I would have told you to strap rockets onto it, and then I would have looked at you funny for asking me such an easy question. As it turns out, hypothetical-arrogant-child me was right to be so cocky, because that's exactly what Swiss cyclist and speed demon François Gissy did to smash the world record (his own) for fastest speed on a bicycle by reaching a Schwinn-melting 207 MPH in under 5 seconds at the Circuit Paul Ricard race track.
Let me repeat that: 0-207 MPH in 4.8 seconds on two skinny wheels, a frame and a seat. Check it out (video has multiple runs):
Gissy acheived this speed with the help of a hydrogen peroxide rocket designed by Exotic Thermo Engineering's Arnold Neracher. Gissy's previous record was a paltry 177 MPH, set way back in 2013.
(by Johnny McNulty)