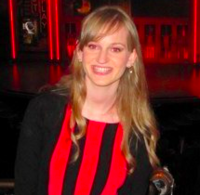 Filed by Orli Matlow

|

Nov 24, 2015 @ 10:50am
Cheerleader Sofie Tate does with one leg what most people can hardly do with two: not only smile and be enthusiastic, but also pull off jumps and sophisticated choreography. Tate was cheering on her high school squad when she was scouted by the coach of the Nebraska Wesleyan University cheerleaders, who caught her story on the the local news. NWU coach Terry Lange offered her an audition, and said that "it wasn't Sofie's birth defect, but her talent" that landed her on the squad.
"She's very, very good at what she does," Lange said, ;"An individual with the limitation that she has, with what she was doing, it was just phenomenal to watch her perform."
Tate says she sometimes imagines what life would be like had she been born with two legs:
"Just walking and dancing and cheering sounds fun, but honestly if this is the worst thing that happens to me, like we'll be good, because it's not too hard at all."