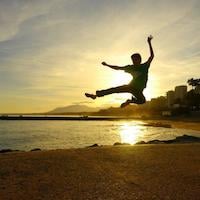 Filed by Mitchell Friedman

|

Jan 11, 2016 @ 4:35pm
LeBron James once famously took his talents to South Beach. On Sunday night, a basketball took its talents to LeBron James's face. Like LeBron, the basketball was bold, unapologetic, and completely in command of the game (the game, of course, being to smack LeBron in the face).
This wonderful gift to LeBron-haters everywhere happened during pregame warm ups Sunday night, before the Cavaliers beat the pitiful 76ers by a surprisingly paltry 10 points.
But even the good people at NBA.com demanded a second look at the LeBron plunk:
Still, it's definitely not as big of a deal as when LeBron's penis attended the pregame.