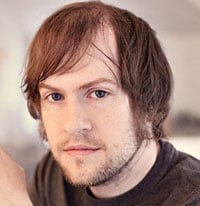 Filed by Brian Boone

|

Aug 14, 2016 @ 9:44am
Being driven to succeed from an early age is one thing—predicting the future is another. Sure, to get to the Olympics is the goal, and athletes have got to start training very young to eventually become the world's best. But a number of athletes at this year's Summer Olympic games matched their hard work by telling the world a long time ago that they would definitely be showing up at an Olympics.
1. Michael Phelps.
In 2001, Phelps sat down for an interview with a local news reporter in Maryland. He wasn't far removed from his trip to the 2000 Summer Olympics (where at age 15 he was the youngest swimmer to ever compete for the U.S.), but he failed to take home any medals. That would mark the last time Michael Phelps would go to an Olympics and not win all of the medals. In the clip, he states that his goals are two-fold and simple: to win a gold medal in Athens in 2004, and to compete in multiple events. Well, he won six gold medals across six events. He's now up to 22, but he's probably won a couple more while you were reading this.