Filed by Myka Fox

|

Jul 09, 2014 @ 10:56am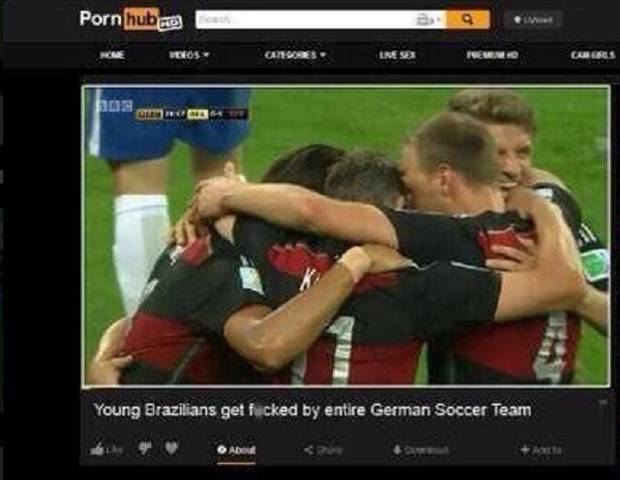 Check out their goal face. (via IMGUR)
Stunned by the worst defeat in World Cup history for a team on their own soil, fans felt that the amount Brazil got "fucked" during their astonishing 7-1 loss to Germany was enough to qualify as porn, so they started uploading clips of the game to popular porn site Pornhub with titles like "Young Brazilians get fucked by entire German Soccer Team."
Apparently, enough of these clips went up that Pornhub took to Twitter to beg users to let the joke go, so that dedicated porn connoisseurs could continue their jacking without obstruction.
Please stop uploading the game highlights to Pornhub... Our public humiliation category is full. #BrazilvsGermany

— Pornhub Katie (@Pornhub) July 8, 2014
Haha, public humiliation category. Good one, Pornhub.
But don't worry, fap fans, your fav jerk joint still has what you really went there to find. As a responsible journalist and jackspert, I went to Pornhub to investigate this flood of World Cup mockery for myself. When I did a cursory search for "Brazil," "Germany," and "World Cup," I still got "porn," "porn," and "porn."
Note: If you are looking for a legitimate crossover between the World Cup and porn, videos of the fans could work. You know, if watching people crying is what you're into.
(by Myka Fox)