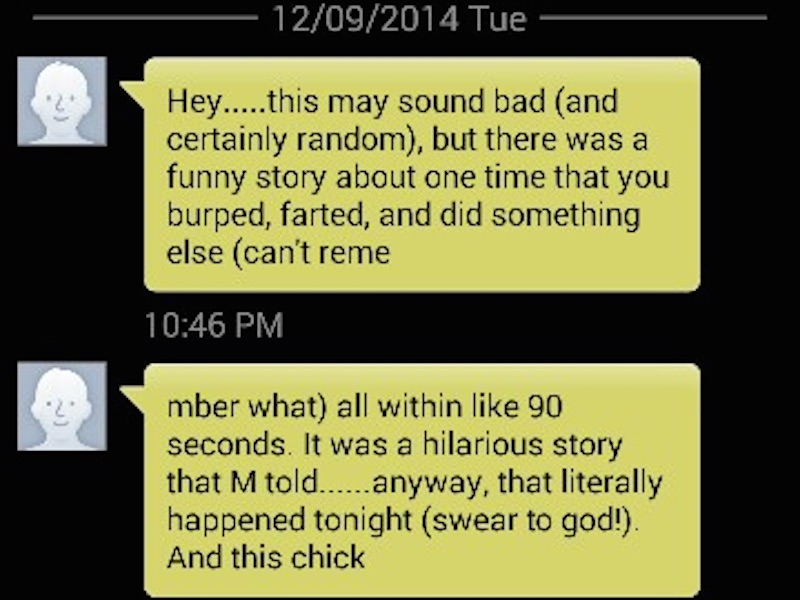 10:46 PM is far too early to be drunk enough to approve this text, dude.
This isn't the most insane text message that's ever been sent, but this mystery dude just avoided sending this blatantly flirty (despite all protests to the contrary), clearly out-of-the-blue, and fairly inappropriate text block to a woman he actually knows by miraculously sending it to the wrong number. This has allowed him to live in infamy on reddit's r/cringepics forum, but hopefully it gave him time to really think about what he was doing (maybe he can consult one of our texting guides). Let's be honest, though: he probably just found the correct number afterwards and sent this again anyway.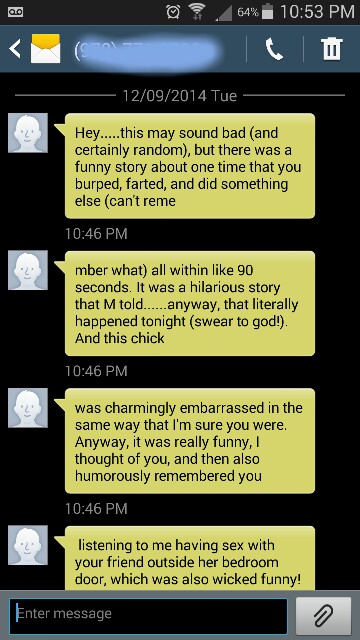 It starts off okay enough, with a simple desire to re-live that hilarious time this woman he knows accidentally expelled gas from multiple orifices simultaneously. Then, there's the pivot. The pivot to "remember that time you overheard me have sex and I interpreted it as interest?" Or, at least, that's what it sounds like, because text is the creepiest form of communication. You know how when you write a text with a period at the end, it sounds really angry? Sexual stuff is like that, except it always sounds creepy (regardless of punctuation, except with winky faces, which can only make it worse) unless you talk sexy to that person in normal life. But let's continue.