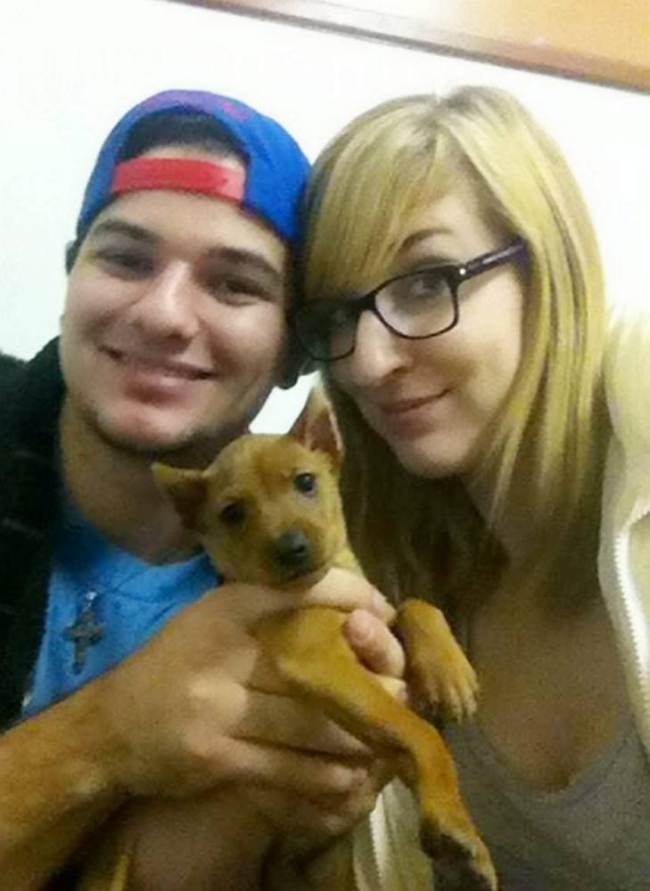 No dogs were harmed in the faking of this death. (Via SWNS)
23-year-old Brit Alex Lanchester went to Connecticut for college where she fell in love with Tucker Blandford, also 23. His name alone should have been a dead giveaway about what a wet turd he was going to turn out to be.
According to Metro, Blandford proposed to his sweet, naive girlfriend before she moved back to her hometown with the plan that they would be married August 15th. As the date approached, Blandford realized he was a wet juicy turd who neither wanted to get married nor face the reality of breaking things off -- so he faked his own death.
Or, rather, he did the wet turd version of faking a death by doing the Jerky Boys equivalent and pretended to be his own dad when calling Lanchester to deliver the sad news. He did a fake voice and everything. According to the The Mirror, the phone call went like this:
[RING RING]
Alex: Hello?
Wet Turd: Alex, this is Tucker's dad. There's no easy way to say this… I am sorry to say that Tucker is dead. He'd been suffering from depression and had thrown himself in front of a car.
Alex was naturally upset, but managed to pull herself together to send condolences to Wet Turd's mom. That's when the worst-planned fake death immediately fell apart.
Blandford's (Wet Turd's) mom picked up the phone and was not only surprised to be getting a condolence call because her son wasn't actually dead, but she was also surprised to hear that her son had been engaged in the first place. This is what those of us in the relationship biz call a red flag.