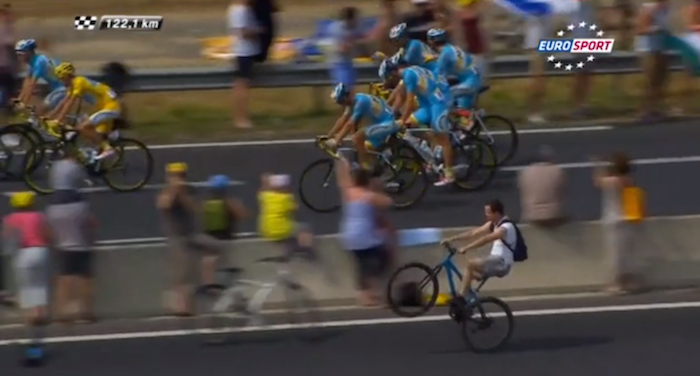 At least one of those world-class cyclists is jealous of that kid's 10-speed right now.
Italian rider Vincenzo Nibali won the Tour de France on Sunday for the Astana team of Kazakhstan, and his teammates celebrated his win (and their redemption from a string of steroid scandals that had stripped their riders of several Tour titles) with the traditional slow victory run with a glass of champagne. As cool as they must have felt, having just won one of the major athletic competitions on the planet, none of them looked as cool as the random stranger who decided to salute Nibali and his team with a much more cycling-appropriate toast than champagne: a high-speed wheelie for what looks to be at least 50 meters.
Now this is how you steal the show by keeping pace with athletes, not like the little kid in England who face-planted yesterday in front of a worldwide TV audience while following some marathon runners in the Commonwealth Games. This is also the coolest thing to come out of the 2014 Tour besides Bartosz Huzarski's insanely muscular and veiny legs, which terrified the Internet on Friday.
(by Johnny McNulty)