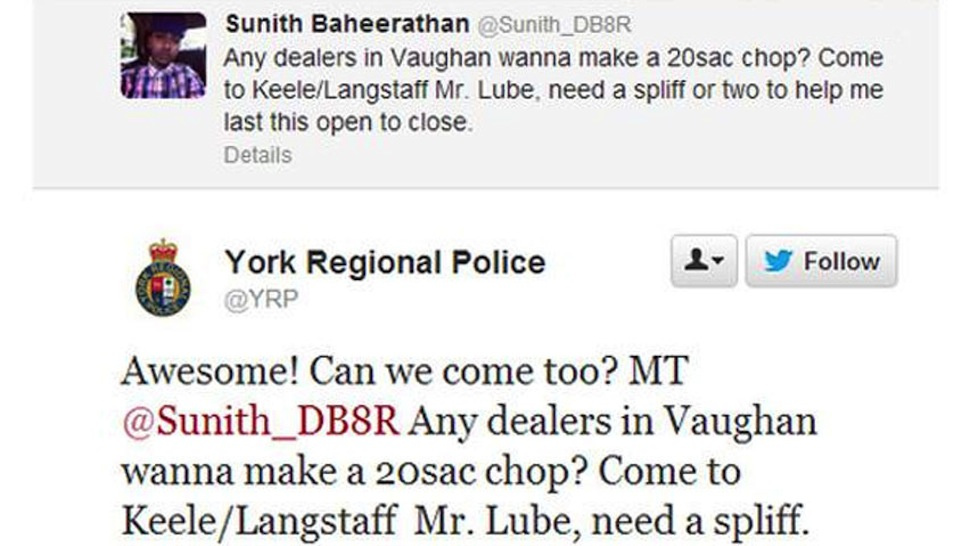 Twitter needs a "Block All Technologically Proficient Law Enforcement" button.
A Toronto-area mechanic experienced a very reasonable dread of having to work all day at a Mr. Lube. So he did a not-so-reasonable thing by tweeting an open request for someone to show up at his job and engage him in an illegal narcotics transaction on premises. As you can see above, the police were more than excited by the open invitation. Sadly, the Twitter faux pas caught the attention of Mr. Baheerathan's boss. He's fired now.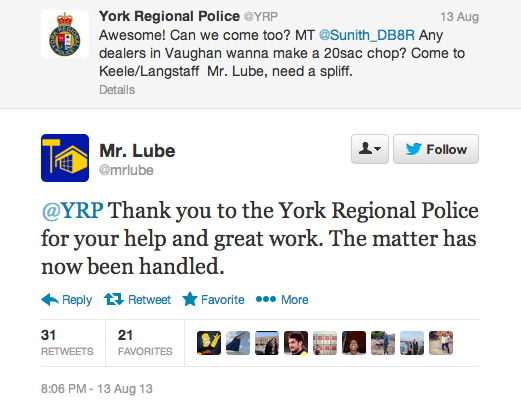 I assume "handled" doesn't mean the boss shared his private stash with Baheerathan.
Yes, obviously, Sunith Baheerathan was pretty dumb to tweet out a plea for drug dealers to come to his place of employment, even if he was obviously joking. But this raises a larger problem, which is that the local police are not only on Twitter, they know how to use it. That's not right. We assume the police, like our parents, are technophobic dinosaurs who refer to Twitter as "the Tweeter," and so we can say whatever we want. Cops not only using Twitter correctly, but using it to joke around with people who are trying to innocently commit crimes is the real crime.
Keep the local police off the Internet. It's crowded enough as it is, thanks to the NSA.
(by Bob Powers)