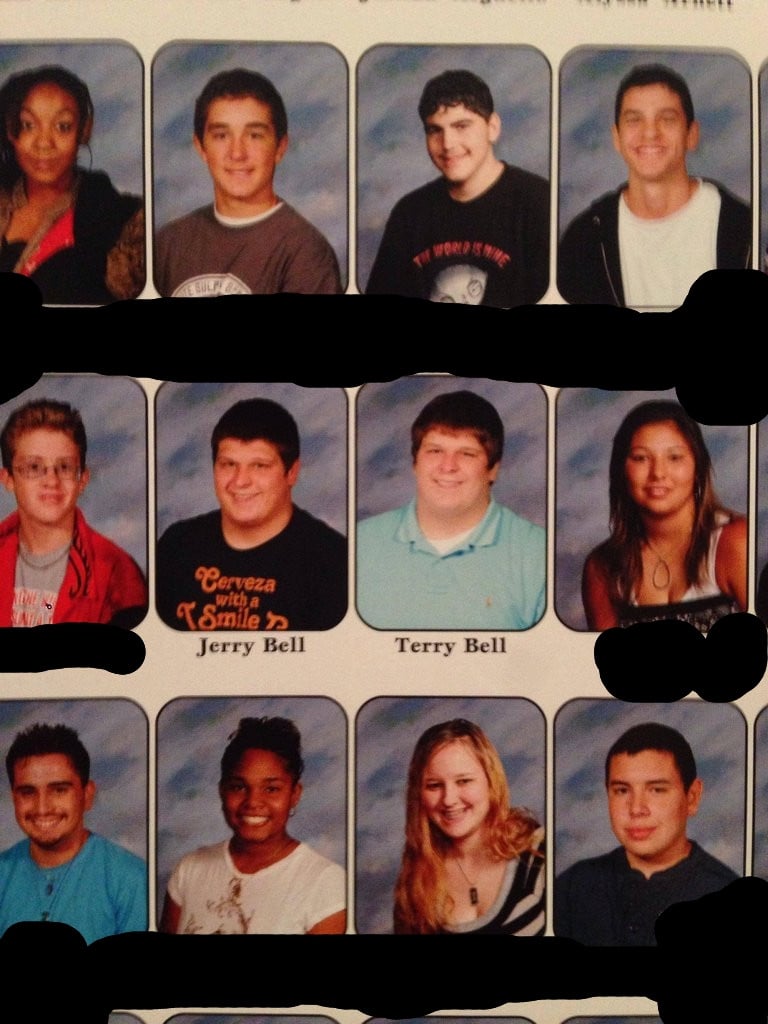 Just chew your gum. (Via reddit)
A man on reddit today posted a picture from his high school yearbook featuring twins Terry and Jerry Bell. The good twin, Terry Bell, wore a teal polo shirt and had a dorky haircut. The other was the bad twin, Jerry Bell, wearing a shirt with a not-very-school-appropriate "Cervesa with a smile."
But there are no twins.
There is just a Terry Bell, and according to redditor Dr_Martin_V_Nostrand, Terry went in for both the original school photo day and the makeup day. Dr. Martin writes, "He took a second photo on the secondary day for yearbook photos. Wore different clothes, wrote Jerry instead of Terry. They don't cross check the photo names with the enrollment records at my school apparently."
Apparently.
Dr. Martin says he isn't sure if Terry really meant to go into the yearbook as twins, or if his handwriting is just terrible (Terry Bell) and he took credit for the accident. Either way, Bell was apparently only getting his picture taken so that he could skip class, which is definitely the behavior you'd expect from the "bad twin."
Some commenters, disbelieving that there is only one Bell, noted that Terry's hair is different than Jerry's and that Terry appears to be heavier than his cooler twin. Dr. Martin explained, "He took the second picture on make-up picture day, which was a few weeks after the first one. He's a bigger guy, so I think it is his posture and maybe some different lighting that makes him look so different in the two."