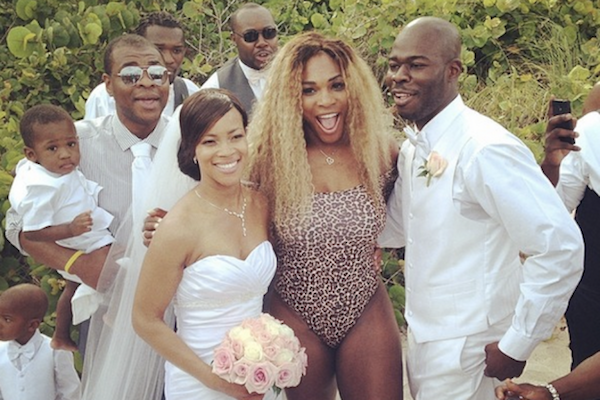 The groom looks a little too happy. (via)
"Dearly beloved, we are gathered to - holy crap, it's Serena Williams!" That might be what was said in Miami on Saturday after the tennis legend popped in on a beach wedding wearing a long-sleeved, leopard-print bathing suit. The couple seemed happy to have the ceremony interrupted for a few minutes, posing for pictures with their underdressed guest while every guy there hurt his brain trying to keep his eyes out of trouble.
Serena seemed pretty happy, considering she was coming off a second round loss at the French Open last week. An open bar and dancing probably sounded good after the worst Grand Slam performance of her career. She posted a shot to Instagram captioned "Wedding crasher!! Congrats!"
Stay unfocused, fellas.
Serena was hanging in Miami with her tennis pal Caroline Wozniacki, who may have decided to stay clear of the ceremony after having her own nuptials called off recently by ex-fiance Rory Mcillroy, knowing that a shot of her crashing a wedding would've sent the Internet into snark hyperdrive.
Serena, still dominant on the beach.
(by Jonathan Corbett)