Meet Rami. He's goofy as hell.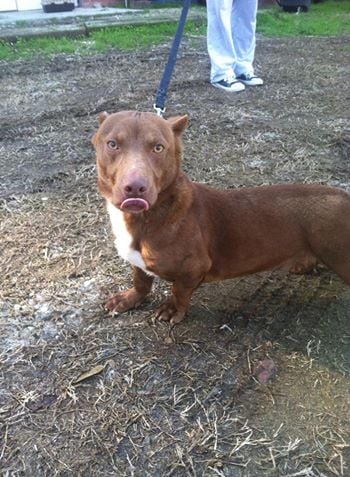 'Sup? (via Facebook)
Rami is a one-year-old, Pit Bull / Dachshund mix shelter dog who is looking for a home where he can be loved by someone who is really into living, breathing optical illusions running around the house.
Rami is being cared for at the Moultrie Colquitt County Humane Society in Moultrie, GA, and since they posted his pic on their Facebook page they've found themselves with a veritable Internet phenomenon on their hands, with over 29,000 hits on his post in one morning. They've gotten enough offers to adopt that they're taking applications.
Due to all the interest in Rami we are accepting applications for his adoption at this moment... We are a small shelter with limited funds, so we are unable to provide transportation, but we appreciate all your interest in our sweet Rami. Please remember there are lots of homeless animals in shelters unique as Rami. Visit your local shelter soon to see other sweet dogs and cats in need.
How's it feel to be Internet famous Rami?