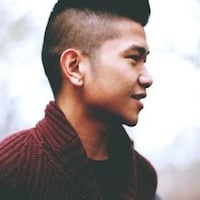 Filed by Keith Estiler

|

Mar 14, 2016 @ 5:29pm
Alex Moss from Manchester, UK found a strange, hidden letter when he was redecorating his bedroom. Letters come in all shapes and sizes: there's this rad one, this touching one, and this brutally honest one, but the one Alex found was definitely of the eerie variety. The letter, which dates back to 2001, seemed as if it was written for Alex:
https://twitter.com/alexmoss/status/708236140797673472?ref_src=twsrc%5Etfw
According to Mashable, Moss posted the letter on Reddit and also to Twitter with the hashtag #finddarrenlucas. In both cases, Moss wanted to see if the author of the letter, Darren Lucas, would respond.
By some unforeseen miracle, the author replied to Alex on Twitter:
https://twitter.com/D_Clucas/status/708266265769541634?ref_src=twsrc%5Etfw