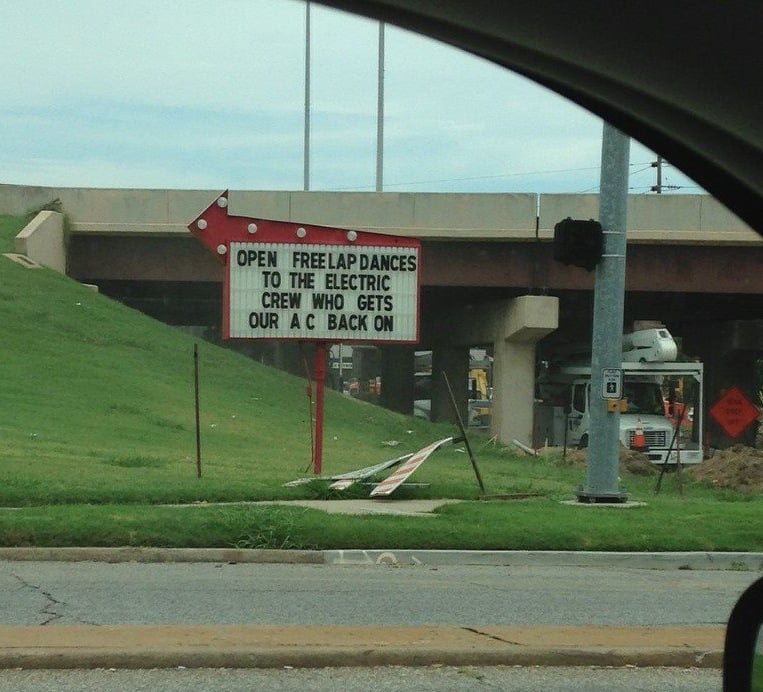 Their first sign ever read, "one week of free dances to whomever builds us a strip club."
About 90,000 people lost power in Tulsa this week following a major storm, and while we feel for all those who lost power, we must make sure that as a society we direct our emergency repair crews to where they are needed most: our darkened places of nude dancing. Without power, strip clubs can't light their interiors just enough to see the dancers without having to look too closely at the dancers—either everyone's dancing in the dark, or you have to open a window and let the harsh light of day come in.
We must offer the proper incentives so that utility crews are not distracted by things like children's hospitals: erotic dance. It results in a perfectly fair distribution of economic goods; the crews rush to the strip club, but only one can repair it—however the other crews fan out and begin repairing the fast-food and liquor stores around the strip club, and soon the entire economic structure revolving around the strip club is restored. And so, therefore, is Tulsa.
(by Johnny McNulty)