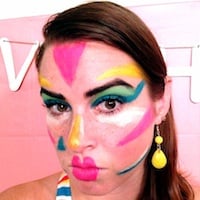 Filed by Ashley Bez

|

Sep 08, 2015 @ 10:50am
It's hard out there for a poet with a boring name like Michael Derrick Hudson.
The hardest part of being a poet is choosing the correct pen name. Apparently, run-of-the-mill whiteguy names just don't get any respect. That's why Michael Derrick Hudson, a librarian from Indiana, decided to adopt a new moniker after he couldn't get his poems published.
Michael went with the name "Yi-Fen Chou" and BOOM: instant success. Under his fake Chinese name, Michael got a poem accepted and published by The Best American Poetry 2015. Then he made a really bold move, he included the story of his fabricated name in his bio in the very same book, saying his poem "was rejected forty (40) times before I sent it out as Yi-Fen Chou. As Yi-Fen Chou it was rejected nine (9) times before Prairie Schooner [the publisher] took it." BURN (sort of).
There was outrage in the poetry community, which took place on Twitter, one of America's favorite place to express outrage. Sherman Alexie, one of the book's publishers, posted a response defending his choice to include the now-controversial poem. Anyway, people are actually talking about poetry, so this was basically the equivalent of a sex tape for a book of poetry.