Sea cow. Sea cow swim. Sea cow swim all up in the spring like whatup, I got a big flock.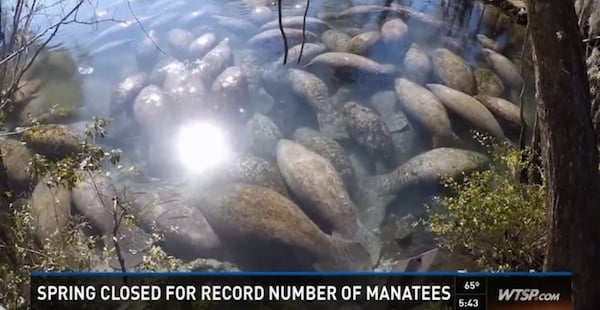 Can you spot the manatees among the boulders? Hint: there are no boulders.
(screengrab via WTSP)
The Three Sisters Springs in Florida are a popular tourist destination for people who want to swim in crystal-clear waters with the most relaxed beasts in the sea, manatees. There are usually a few dozen manatees hanging out there, as manatees do, but this winter's unusually cold weather has driven huge herds of the blimpish creatures inland to soak up the warm, shallow spring waters. This came to a (slow, fat) crescendo on Monday as an astonishing 300+ manatees swarmed into the springs between noon and 1:30pm, forcing the Springs to kick swimmers out of the crowded water.
The total manatee population of the Three Sisters Springs reached its highest peak last Sunday with at least 528, but had dropped to a mere 21 by last Wednesday. Yesterday's herd is unusual in the number of manatees moving all at once.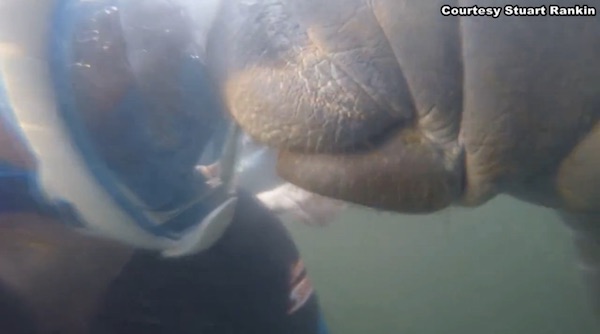 Yeah, that's a manatee kissing someone's snorkel mask...what of it?
(via Stuart Rankin)
Park officials decided to kick humans out of the water, because even though manatees are extremely peaceful, they weigh hundreds of pounds and there's currently a lot of them stacked on top of one another. Agitation would be fun for no one, and a human kicking around might make the herd think one of their members was being attacked and that would stress the chilly manatees out.