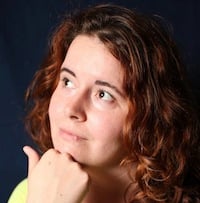 Filed by Aimee Lutkin

|

Jun 16, 2015 @ 9:08am
Conner Kendall was breastfeeding her baby in a TGI Friday's when a man took her picture without her permission and posted it on social media.

Why don't you cover your mouth up, sir. (via Facebook)
His post read:
Ok moms out there.. I know when a baby is Hungry they need fed. I went to know if this is appropriate or inappropriate as I'm trying to eat my Fridays, there are little kids around.. I understand feeding in public but could you at least cover your boob up?! Your input is needed!
Not really sure who he was talking to when he said, "Your input is needed!" I'll assume he was asking me and say, "No, she doesn't need to cover her boob up."
There, glad to set your mind at ease, Guy Who Has a Problem With Small Children Seeing Breasts Even Though They Were Recently Breastfed Probably and Then Posts a Picture of that Boob on Facebook Where Many Many Many More People Will See It.
Obviously, this guy is a garbage-eating dummy, but he is also a dummy who completely violated this woman by posting her picture without her permission to shame her for feeding her child. Well, I guess they live in a small town in Indiana, because she found out about it. Here's her response: