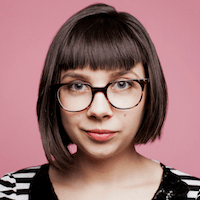 Filed by April Lavalle

|

May 20, 2016 @ 10:00am
If you ever wondered what people are being taught in their high school health classes nowadays, one thing is for sure—not anything about female anatomy. Beyond thinking that girls pee out of their vaginas or that periods are made out of the blood of dead babies (pretty much every girl will have to teach some dude that this is not true at some point in their lifetime), people have some really strange ideas as to how they think the female body works. Even some women with vaginas of their own don't seem to know what is really happening in their pants. Even though some of what people "know" about female anatomy horrifyingly misinformed, you can still laugh at them anyway.
1. This person thinks that the menstrual cycle is unnatural, and suggests basically starving yourself to stop it. (via PM_me_a_scary_thing from Reddit)
2. Redditor _ahsatan started a conversation about female anatomy when they had to explain that you don't pee out of your clitoris.
I just taught my sister-in-law (26) and my husband (31) that women do not, in fact, pee from the clit. What are the most ridiculous ideas you've heard about the female body?