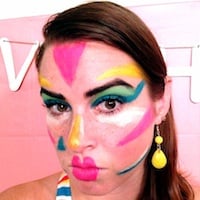 Filed by Ashley Bez

|

Sep 22, 2015 @ 10:33am
Lizz Winstead, co-creator of The Daily Show and outspoken women's rights activist, created a satirical-yet-informative app called Hinder. The app mocks the infamous swiping aspect of Tinder by using it to display photos of politicians and detailing their words and actions towards women and their reproductive rights. However, iTunes won't allow Hinder in their app store, because it's "defamatory, offensive, mean-spirited, or likely to place the targeted individual or group in harm's way."
Winstead is not happy with Apple's rejection of Hinder. Apple explicitly states that satire is allowed in apps: "Professional political satirists and humorists are exempt from the ban on offensive or mean-spirited commentary." She told Huffington Post, "The biggest joke of all is they have an exemption for professional political satirists and humorists—and dammit, I should have not been a florist all these years and gone into the satire realm!"
The app is available through Lizz's website LadyPartsJustice, so I tried it out. Here are some of the gems I came across while swiping through politicians: