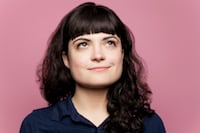 Filed by Jaime Lutz

|

Jan 04, 2016 @ 9:39am
New dad Mark Zuckerberg had a great response yesterday to a grandmother who commented on his Facebook page to say that she encouraged her granddaughters to date nerds in high school: don't date the nerds, be the nerds. It's a pretty great pro-woman (and pro-nerd) response from the Facebook inventor, who apparently is less like Aaron Sorkin's sexist version of him from The Social Network than Aaron Sorkin is.
It all started with a Facebook post about Zuck's New Year's resolution:
Lots of people responded, including this grandmother:
He replied with a PG version of Tina Fey's "Talent is not sexually transmittable" advice.