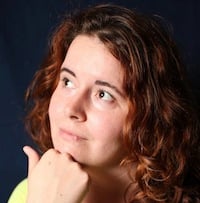 Filed by Aimee Lutkin

|

Aug 19, 2015 @ 9:18am
If this girl covers much more of herself she'll need someone to lead her from class to class.
Mom Stacie Dunn posted the above photo of her daughter Stephanie Hughes after getting called into the school to pick her up over a dress code violation. She wrote this righteously furious post about it:
So this is my daughter at school today. I had to come to the school because according to her school principal what she is wearing is out of dress code and inappropriate for school. When I got there I found a group of female students standing in the office due to being out of dress code also. This is ridiculous! WOODFORD County High School and the principle have been enforcing a dress code where as girls can not show even there collar bones because it may distract their male class mates. This is ridiculous! Parents are being called away from their important jobs and students are missing important class time because they are showing their collarbones! Something needs to change! PLEASE SHARE MY POST! Something needs to change!
Stephanie attends Woodford County High School, and it's not the first time the institution has come under fire for its strict dress code that seems to be largely enforced along gender lines. In fact, a different student, Maggie Sunseri, even made a short documentary about it: