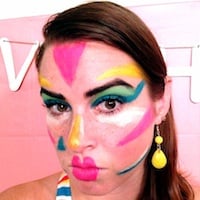 Filed by Ashley Bez

|

Sep 14, 2015 @ 6:10pm
'Vanity Fair' reminded everyone that men rule late-night television. Twitter responded accordingly.
The picture above was tweeted by Vanity Fair with the caption "We talked to all the titans of late-night television, and found out why it's better than ever," and it did not take long for the Internet to voice its high-volume opinion on the matter. However, Daily Show comedian Samantha Bee's response was the best, and hit with the resounding thud of a thousand retweets:
Even though you can clearly see the photo, I'm just going to reiterate that she depicted herself as a centaur with chest tattoos and laser vision. If anyone deserves to be on late night television, it is Samantha Bee and anyone she trusts to write topical jokes on her behalf.
Although Samantha took the crown, here are the runners-up for best responses to the testosterone-y Vanity Fair photo: