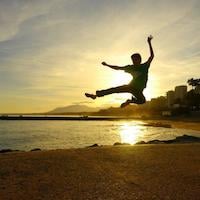 Filed by Mitchell Friedman

|

Aug 10, 2016 @ 6:20pm
Judge Amber Wolf is quickly becoming the internet's favorite judge after allowing a defendant to meet his month-old son for the first time while in her courtroom. And this is following a recent story from the beginning of August, when headlines applauded the same Judge Wolf for her reaction upon learning a female prisoner was denied pants and feminine hygiene products for three days.
This time, local Kentucky news station WDRB reports that "tears were shed." Wolf called the moment "probably one of the best things I've ever done."
What Wolf did was momentarily suspend her no-contact order for James Roeder in order to allow his wife, Ashley Roeder (his co-defendent) to approach him with their baby.
The infant was born while James Roeder was in custody, and as Wolf told WDRB, "it occurred to me after we finished this case that he had not met his baby—who was 30 days old—and that he was not going to get an opportunity to meet his baby anytime in the near future."
The couple is serving time for allegedly stealing flat screen TVs after breaking into a warehouse.
Watch for the touching, if blurry, video. It's made even more blurry by all the tears.