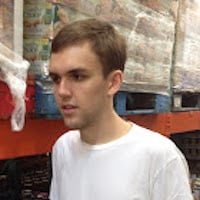 Filed by Bijan Samareh

|

Nov 20, 2015 @ 3:05pm
Kirill, a boy from Kazakhstan who was born without a right hand, was adopted by a Newfoundland couple earlier this fall. When he arrived at the airport, he met his grandpa, Chris, who was also born without a hand. Doug and Lesley Facey, a couple from Paradise, Newfoundland, had been trying to adopt a child for the past few years. Just when they finished jumping through all the hoops to get certified for adoption, they discovered Kirill, who was living in an orphanage in Karaganda, Kazakhstan.
They immediately flew to Kazakhstan to get him. He had been passed over by a bunch of other couples because of his arm, and the judge presiding over the adoption even questioned why they would want to adopt a boy without a hand.
Doug's response: Why wouldn't they?
How could we say no to this little boy when I have grown up with someone who was the same all my life and it never bothered me or stopped him in one way or another [?]