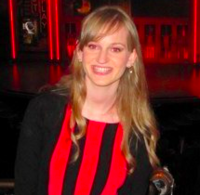 Filed by Orli Matlow

|

Feb 11, 2016 @ 8:52am
Krystal Miller is a mother of two in Perth, Australia, and she lives with an ileostomy bag. Diagnosed with Crohn's disease, Miller had a part of her bowel removed, and wears an ileostomy bag in its place. On her blog, Bag Lady Mama, Miller writes about "how [she lives] as a babylady and how we can still rock our worlds with our bellys out!"
One of her many empowering post talks about feeling sexy after surgery.
She writes about meeting a hot guy at a bar, and being anxious to tell him about the ileostomy bag before getting it on:
I really wanted to be dragged away and swept off my feet, but I was nervous about telling some stranger about my bag! Id never had a one night stand before! How the hell do you tell some random that you have a bag, and how the hell do you explain why?!

Anyways, I caved! This gorgeous guy was into me as much as I was and I told him "Look I have a bag. I have had bowel surgery. This is why I cant go home with you!"

His response will stay with me for the rest of my life! " I already know! " Huh?! How the hell could he possibly know I had a bag?! Well the switched on bugger had put 2 and 2 together while we were dancing! Sooooooo... he said, wanna come home?! YEP!

My first and only one night stand! It made me feel so good that some stranger could want me and want to be with me even though he didn't love me, he didn't have to go home or take me home with him that night. That guy could have had anyone in that club that night, but he chose me!

The confidence and the change in me was instant! I felt sexy again, I felt empowered! I felt like a woman who was still desirable!