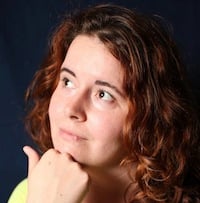 Filed by Aimee Lutkin

|

Nov 13, 2015 @ 3:25pm
Recently, Cadence, a 7-year-old girl with autism, hid under her teacher's desk because she was feeling stressed out. She was feeling bad about herself because of some things that she heard adults around her say about autism. While she was under the desk, Cadence communicated with her mom, Angela, through a series of notes. Angela then decided to share Cadence's words to give people an idea of what a girl like her hears about herself regularly:
Angela wrote this to accompany her daughter's questions:
What 'messages' are children hearing - from ourselves, from other parents, at school, from media and in the general community? And what are the 'take home' learnings, spoken or unspoken, they are internalizing from these messages?
Cadence's sensory differences means she hears, sees and observes every detail around her - every conversation, every sight, every smell; as many autistic children do. This 'conversation', between Cadence and myself, started under her teachers desk - a 'safe place' where Cadence had put herself in her confusion that she was somehow 'bad' - a belief that had culminated from over-hearing other parents and hearing news stories.