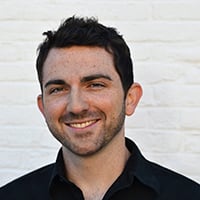 Filed by Chip Dwyer

|

Jul 08, 2016 @ 12:41pm
Katie Reed, the mommy blogger behind It's A Mother Thing, responded to her 5-year-old son calling her fat by conducting a bizarre experiment about perception and Photoshop. Reed says it all began when she was putting her five-year-old son to bed, and he told her, "Mommy you look like you're having a BABY! Don't worry. It's just 'cause your belly is so FAT!"
While she knows she's put on weight for normal reasons (having three kids in four years and a lack of energy due to health problems), the words still stung. In addition to ensuring she's comfortable in her own skin, she wanted to make sure she raises three sons who appreciate all women for who they are (and that don't call people fat when they put on a few pounds).
So she had her son help her pick out a new bikini. He insisted on a rainbow design, and she found one she liked. But the struggle continued when she was making her purchase at the register:
The young checkout girl rang us up, looked at me in wonder and said, 'How do you find the confidence to wear this? I could never let my flab hang out.'

I just kind of looked at her. I don't think she meant to be mean, but I was definitely thrown. I realized pretty quickly that she was not insulting me, but rather sharing her own insecurity about her body.