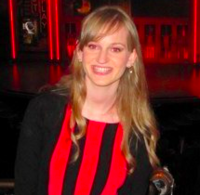 Filed by Orli Matlow

|

Aug 02, 2016 @ 11:14am
Moms are under a crazy amount of pressure—under pressure as women to be beautiful and perfect and polite, and pressure as mothers to raise their kids free-range, organic gluten-free. Australian blogger Olivia White is the mother of two daughters, Annabelle and Teddy. White proudly posted a pic of her post-baby body, with stretch marks and without a thigh gap, calling on moms to cut themselves some much-deserved slack.
"Puffy face, droopy milk filled boobs, wider hips and belly full of stretch marks!! That's my post baby reality, no 'bouncing back' here!" she exclaims.
"And you know what? I couldn't give a sh*t! Because I'm not the same person I was before I had babies, so why would would I want my body to reflect something and someone I no longer am?"
White goes on to celebrate her body post-baby, proud of what it's accomplished, sustaining life and being way cooler than a six-pack: