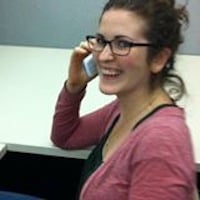 Filed by Shira Danan

|

Mar 27, 2015 @ 9:15am
Rachel Hollis, fashion blogger and mother of three, recently posted a bikini photo to Facebook with a caption that celebrated the stretch marks on her belly.

Dammit, now I'm comparing my self-confidence to hers. (via Facebook)

Hollis, who runs lifestyle website The Chic Site, wanted to share a photo of herself this month after she ran her first marathon.
She told Today: "I thought, it's not going to get better than this. You ran the 26 miles, and I had been training for six months. My body is never going to be smaller than it is right now, so if there's ever time to show off your belly, this is probably it."
The photo quickly went viral, and as of publication has nearly 400,000 likes. The photo also inspired many commenters to say they were going to wear a bikini for the first time in years and to share photos of their own post-real-life bikini bodies.
Here's what Hollis wrote about her body and body image:
I have stretch marks and I wear a bikini. I have a belly that's permanently flabby from carrying three giant babies and I wear a bikini. My belly button is saggy... (which is something I didn't even know was possible before!!) and I wear a bikini. I wear a bikini because I'm proud of this body and every mark on it. Those marks prove that I was blessed enough to carry my babies and that flabby tummy means I worked hard to lose what weight I could. I wear a bikini because the only man who's opinion matters knows what I went through to look this way. That same man says he's never seen anything sexier than my body, marks and all. They aren't scars ladies, they're stripes and you've earned them. Flaunt that body with pride!