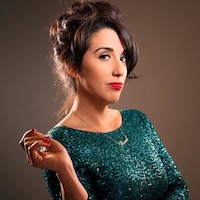 Filed by Giulia Rozzi

|

Mar 13, 2015 @ 1:46pm
White dudes! They're everywhere:
Heads of companies, lead protagonists in most films, mean anonymous commenters on my YouTube comedy videos (your goat in a sombrero avatar doesn't fool me, bro!) and on the front of every paper bill in the United States.
But the patriarchy of paper money may soon change, thanks to Women On 20s, an organization founded by Barbara Ortiz Howard and Susan Ades Stone. Through an online competition, Women On 20s is picking a woman to replace Andrew Jackson on the $20 bill.
Stone and Howard asked about 200 leaders and historians who the female face of the 20 should be and came up with a diverse group of 15 amazing women, including Sojourner Truth, Eleanor Roosevelt and Rosa Parks. Online votes will narrow the list to three, followed by a final voting round to pick the winner.
Just think, soon when a guy "makes it rain" at da club, it'll rain feminism! Strippers' G-strings will be filled with female faces! Enslaved prostitutes can feel empowered as they pay their pimps with cash that represents the strength of women.
While Women On 20s has got the 20 covered, I'd like to offer some suggestions of badass broads who could grace other denominations someday: