Filed by Deborah Gross

|

Jan 20, 2015 @ 11:08am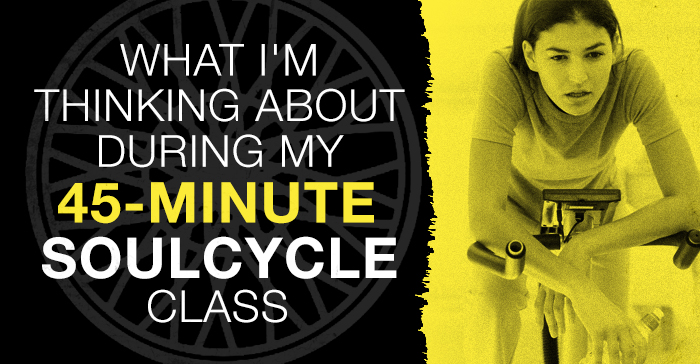 7:25pm I am so healthy. I have a great work/life balance. Look at me making a 7:30pm spin class. I'm pretty amazing. I'm going to make Ina Garten's roast chicken when I get home.
7:35pm This spin instructor is so inspirational.
7:36pm I should actually stop seeing my therapist and just take spin classes.
7:42pm How come my legs aren't going as fast as this old man next to me?
7:43pm YOU'RE RIGHT, GARRETH. THE ONLY RACE I'M IN IS WITH MYSELF.
7:44pm My therapist never makes me feel this good…wait, hold up…is this song what I think it is?
7:44:30pm SHOOP is my jam.
7:45pm GARRETH, YOU ARE MY SPIRIT ANIMAL.
7:47pm "What's my weakness? Men!"
7:48pm This song is so long.
7:49pm Though why would I be racing myself?
7:50pm Did I send that email out?
7:51pm I don't know. By the time I get home, am I really even going to want to eat Ina Garten's roast chicken?
7:52pm I AM BEING HONEST WITH MYSELF, GARETH. I DON'T THINK I'M GOING TO HAVE THE TIME TO ROAST A HALF CHICKEN TONIGHT, AND I CAN'T MAKE IT UP THIS MOUNTAIN. LEAVE ME. JUST LEAVE ME BEHIND. I'M NOT WORTH IT.