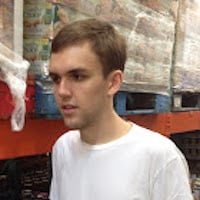 Filed by Bijan Samareh

|

Jul 07, 2015 @ 5:05pm
"Num-ber-one! Num-ber-one! Num-ber-oh shit."

He's been known to pop champagne at the halfway mark. (via YouTube)

We Americans know how to celebrate. But like all people who know how to celebrate, we can get a bit ahead of ourselves, to quite hilarious results. At the AJC Peachtree Road Race in Atlanta, Georgia on Saturday, American marathon runner Ben Payne was mere feet before the finish line of the 10K when he decided to start celebrating. He thought he had first place in the bag, and held up his index finger in an act of triumph. This slowed him down a bit and allowed British marathon runner Scott Overall to swoop in and actually win first, by only 9/100ths of a second.
No word from Payne on the incident, but Overall tweeted quite the cheeky response.
Pleased to take the win today at the Peach tree 10km. Always run through the line! #Peachy pic.twitter.com/HBRozJKSvv
— Scott Overall (@scottoverall) July 4, 2015

At least we beat them at soccer?