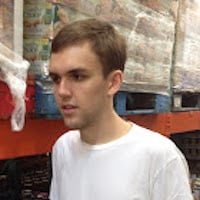 Filed by Bijan Samareh

|

Jul 17, 2015 @ 12:37pm
Shame on you, Internet.
The guy in the bottom right is turning pinker than their dresses. (via Vimeo/Chair7 Films)

A bunch of bougie white people got together to celebrate a wedding, and the Internet went crazy. At the wedding reception of John Weaver and Caitlin Hallerman, Caitlin's two sisters and co-maids of honor gave their bridesmaids speech in the form of a 5-minute pop song mash-up. It's a cute, fun tune for their circle of friends, but for some reason it's going viral and literally every single website is describing it as "epic."
The medley alters the lyrics of the Backstreet Boys, Michael Jackson, and Tracy Chapman to include Caitlin and John-specific trivia, which is really not funny unless you know them, and doesn't even properly fit in the meter of the verses—check your syllables counts, dudes. The song talks about their childhood, Caitlin meeting John at USC (of course they went to USC) through Greek life (of course they were in Greek life), and their falling in love. John laughs through the whole thing while Caitlin cry-laughs:

"I'm gonna go for a Macklemore look on my day of matrimony" (via Vimeo/Chair7 Films)
Here's a choice excerpt, to the tune of "Backstreet's Back":
Caitlin Hallerman
Got a boyfriend
He's Republican
Keeping to the right
To Caitlin's delight
At which point, everyone cheers:

Are those the villains from Wedding Crashers?! (via Vimeo/Chair7 Films)

You can also hear people murmuring in the background, "This is the best thing I've ever seen" and "This is going viral!" If I were there, I would've made fun of them for saying that before being proven horribly wrong the next day.