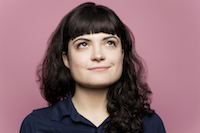 Filed by Jaime Lutz

|

Dec 22, 2015 @ 11:28am
An 84-year-old great-grandmother wrote to Santa and asked him for a dog, and someone read the letter and gave her one—probably, you'd imagine, to avoid the awkwardness of explaining the truth about Santa to an 84-year-old woman.
"Dear Santa, you may think I'm dumb," Ann Upton, of Michigan, wrote. "I'm 84 and live alone. Could it be possible that you would bring me a Chihuahua pet." At this point, she addressed the letter to Santa and put it in the mailbox, which got the letter to Nila Dubas, one of the postal workers who helps answer letters from Santa. Dubas reached out to a foster care group and helped find a Chihuahua for Upton to take in.