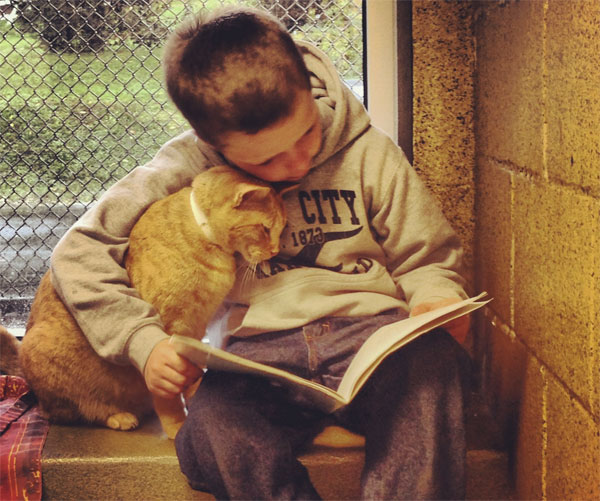 The kind of cell phone photo Norman Rockwell would take if he were here today.
(via redditor dagorlad)
As a non-cat owner, I can't speak with authority on this, but I have strong suspicions that cats are not very good at following a narrative. I have two dogs, and I've been trying to get them to watch True Detective with me for weeks now, and I just don't think it's sinking in. Especially with the non-linear editing style. In retrospect, it probably wasn't such a great idea to begin with. But maybe it's different with cats. What do I know?
I mean, look at these shelter cats here, being read to by a bunch of children as part of the Animal Rescue League of Berks County, PA's Book Buddies program. They look like they're enjoying the experience, even if the finer points of the stories are lost on them. Even if all they're getting is "Blargle gargle glarble barble," at least it's blarbling from a cute little kid who's giving them attention. And the kids are getting a chance to practice their reading skills. And we get to look at these pictures. So, everybody wins. Literally everybody.
If this works out as well as I suspect it will, I think the Animal Rescue League of Berks County should consider a related program in which high school kids come in to explain trigonometry to dogs in need of adoption.
(by Dennis DiClaudio)