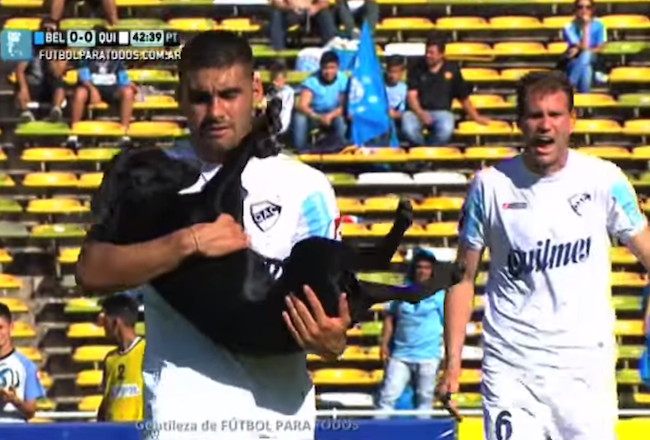 Dude on the right is clearly a cat person.
"Dog on the field! Dog on the field!" ...is what I would start screaming if I were one of the handful of fans being bored to tears by a non-World Cup soccer match knotted up at 0-0 after 42 minutes, and an adorable black lab ran onto to the field looking for some love. Hell, even if it was a World Cup match, when a dog inserts himself into a soccer game, even the most clueless American understands what's going on for a few delightful minutes. 
The lab seemed to have a pretty good understanding of the role dogs play in international soccer matches; run around for a minute or two, then flop to the ground for a few belly rubs before being carried off.
At least she exited the game without making a stink. Unlike this guy:
Not cool. If more dogs acted like that, people might actually start closing the stadium doors, and dogs would find themselves stuck at home watching the game on TV.
(by Jonathan Corbett)