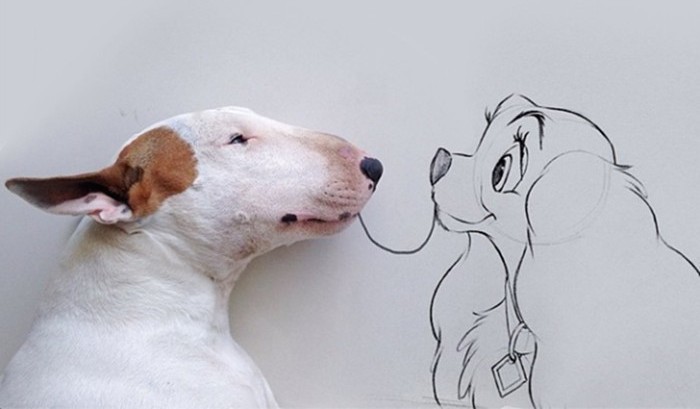 Jimmy is a little young for this reference, but he humors his master.
The next big Internet star is Jimmy Choo the Bull Terrier. He didn't seek Internet fame, though, it came to him via his master Rafael Mantesso's desire to start fresh after a divorce left him with a house devoid of anything except white walls and a white (and brown) Bull Terrier that his wife had named. Mantesso is a restaurant owner and the editor-in-chief of a gastronomy marketing site, but it is his Instagram account full of pictures of Jimmy Choo illustrated onto his white walls that people are writing about.
Apparently, Jimmy is very, very good at obeying the "Stay" command, which he would have to be to get all these amazing shots.
Although his wife originally named Jimmy, Mantesso has become very close to his dog: "I think they are an amazing breed – behavior, personality, the love they demonstrate to their owner, and especially their aesthetics." Indeed, Jimmy is a pretty healthy-looking Bull Terrier, considering over-breeding for their looks has negatively affected the dogs' health since earlier generations, like General Patton's dog.
He may not be a pit bull, but he looks close enough that Mantesso gets hurt "when people turn away or cross the street for fear of him—people think Bull Terriers and pit bull dogs are murderers and bloodthirsty." I, for one, would much rather cross the street to meet Jimmy.
Check out more on Mantesso's Instagram account.
(by Johnny McNulty)