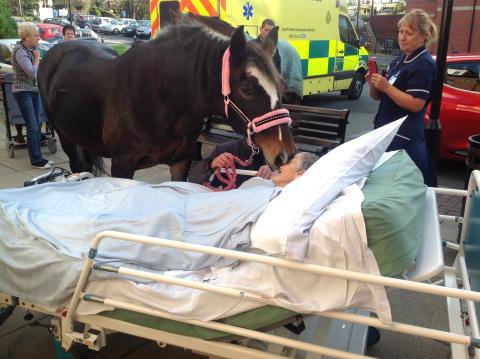 Nope. I can't handle this. Gotta go put some waterproof plastic over my keyboard.
Hold it together, people. We will get through this. 
Sheila Marsh was an animal lover who passed away this week from cancer at the age of 77. Just hours earlier, though, her daughter Tina and the staff of the Royal Infirmary in Wigan, England, moved heaven and earth, and most importantly a horse, to grant her dying wish. Realizing that Sheila's condition had deteriorated, Tina brought the horse that her mother had raised from a foal for over 25 years, Bronwen, to say one last goodbye. 
With family permission here is the amazing photo of a (sadly now RIP) patient being granted her dying wish @WWLNHS pic.twitter.com/UyqfnxrsQ3

— Andrew Foster (@andrewkfoster) November 7, 2014
Sheila Marsh raised many animals, (she had "six horses, three dogs, three cats, and other animals," according to her daughter) but she had a special bond with Bronwen that was on display for everyone who was present. Although Bronwen could not enter the hospital for obvious reasons, the hospital staff wheeled Sheila's bed out to the entrance so the two could meet.
"Bronwen walked steadily towards Sheila," recalled nurse and bereavement specialist Gail Taylor, "and she gently called to Bronwen and the horse bent down tenderly and kissed her on the cheek as they said their last goodbyes."
Oh, jeez. Here comes the waterworks. "I was crying my eyes out and all the nurses were crying too," said her daughter Tina later. "She took comfort out of it and it was a beautiful moment."
What's most impressive about this, after the bond between Bronwen and Sheila, is the care the hospital took in attending to Marsh's last hours. "It was a matter of hours later that she passed away. I want to thank the hospital and all the nurses. It was very important for my mum," said Tina.
Pauline Law, the Infirmary's deputy director of nursing, explained their decision in terms no one familiar with the American health care system could possibly understand. 
"This was obviously extremely important to her and her family. We feel privileged to have been able to provide this support at this crucial stage of her care. It's absolutely right we should pull out all the stops to ensure that our patients and their families receive personalized, compassionate and dignified care at the end of their life."
Well, thank you. Except for the part where you made me cry.
(by Johnny McNulty)