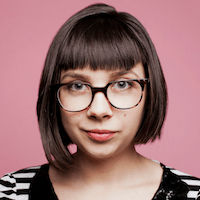 Filed by April Lavalle

|

Feb 27, 2017 @ 12:55pm
For nearly a week now, the internet has been compulsively watching a livestream of a pregnant giraffe named April who is due to give birth "any minute." However, after hours of being glued to their computer and phone screens, people are growing more and more impatient waiting for the slimy, six-foot calf to arrive. Can this giraffe do something to induce labor? Eat some spicy hay or go for a jog or something?
April, who is 15-years old and expecting her fourth calf, is located at Animal Adventure Park in Harpursville, New York. In the pen beside April is her baby daddy Oliver, who is a first-time father and only five-years-old. (April is not only a giraffe—she is also a cougar.) The two giraffes are brought outside for fresh air and sunshine when the weather allows it, but April is being closely monitored because she is at the end of her 15-month-long pregnancy.
Although vets and caretakers are trying to assure viewers of the livestream that April is happy and healthy and and her pregnancy is progressing normally, that isn't stopping people from sending their impatient tweets. Seriously, these people are more anxious than a new dad pacing around the maternity ward waiting room. Calm down, guys, you will be able to pass out the cigars soon.
Shout out to the giraffe who has been laboring on various Facebook Live channels for almost 5 days. There must be birth pools at this point.

— Rachael Berkey (@bookoisseur) February 27, 2017
https://twitter.com/bellaamorosoo/status/834776161687318528
https://twitter.com/agb2013/status/835580037764157440
It's been a long day, but if April the giraffe can be in labor the whole weekend watched millions, I can push through. #prospective

— Paige Stoveland (@LandofStoves) February 27, 2017
Sorry, professors, I will not be attending class until April the giraffe gives birth to her baby.

— Maggie Olofson (@maggie_olofson) February 27, 2017
Day 261 of PA School:April the Giraffe has been in labor longer than I've studied for this surgery exam. I'm sure both will be excruciating

— Shannon (@shannosaursrex) February 28, 2017
April even has her own Twitter account, though it is unclear if a representative from Animal Adventure Park is the one running it.
1 vet, 3 care takers, baby's daddy feet away and not one of them brings me ice chips.... NURSE PLEASE!

— April The Giraffe (@AprilTheGiraffe) February 26, 2017
The park is expecting the new bundle of joy to weigh around 150 pounds, and to stand about six-feet tall. Although April is not yet in active labor (active labor is when the calf's hooves are visible), you can see her positioning her hips and movement in her belly. Once the calf is born, Animal Adventure Park plans on having a contest to name it.
We're thinking Godot would be especially fitting.
Look, Twitter. This pregnant giraffe waited 15 months to give birth, surely you can wait a few more days.