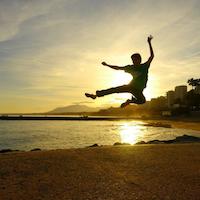 Filed by Mitchell Friedman

|

Nov 02, 2016 @ 1:21pm
Hanging out at Australia's Fraser Island, two bros became Facebook's latest idiots when they snapped a photo of themselves standing on a turtle, smiling into the camera, and drinking some beers.
"Surfed a tortoise on zee weekend.. gnarly duddddeeeee," they wrote, making a reference to a fun Australian turtle from Finding Nemo they don't deserve to know about.
The following is a repost of the offending photo, uploaded by a photographer and quickly shared over 11,000 times. The comments are filled with horror and disbelief.
A representative from the Royal Society for the Prevention of Cruelty to Animals (RSPCA) weighed in on the controversy in a local paper, "These guys are just complete idiots—there's no way they should be doing what they were doing."
According to the local Fraser Coast Chronicle, if the men are "found to be interfering with a natural resource," they could be fined as much as $20,000 per person.
A Queensland Parks and Wildlife Service official did mention, however, that "there is some evidence to suggest this turtle was deceased at the time of the photo." As of now, it's unclear how that information might affect any possible punishment.