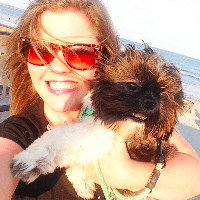 Filed by Missy Baker

|

Jan 06, 2016 @ 10:48am
When a curious wild rabbit spies a pampered pet bunny named Pep, it's love at first sight. There's just one problem—a pesky screen door that's keeping these star-crossed lovers apart. It's like "Romeo and Juliet," but with rabbits and no suicide.
YouTuber bill16504, who captured the footage and titled it "Wild rabbit wants it NOW!!!," noted that wild rabbits were in the midst of mating season at the time. You know how rabbits feel about mating season. Hint: they're super horny. According to animal website The Dodo, domestic rabbits can't successfully reproduce with wild rabbits in the U.S. because they're too genetically dissimilar. Pssht whatever, they just don't understand true love.