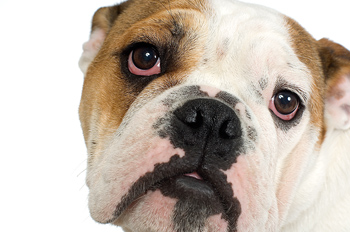 A real, live American running dog.
Full disclosure: I'm an American with a dog, and therefore a public enemy to the People's Republic of China. 
The People's Daily is China's most important state-run newspaper, controlled directly by the Communist Party, and its editorials represent the official views of the party more closely than other state-run print/web media outlets (on TV, their counterpart would be Xinhua). And as of this point, they officially hate dogs, and therefore so does the Party (well, maybe). On the plus side, it inspired an absolutely awesome word: pupulism.
It wasn't an official editorial, but the fact that it appeared as an op-ed at least means someone in the Party approved floating this attack as a test balloon to see how it would go down. Dog ownership is exploding in China as incomes rise, leading to shifting opinions about dogs and heartwarming things like citizens on Chinese social media rallying together to save dogs from being eaten for food. In other words, the kind of citizen activism that rapidly leads to problems like people protesting in favor of the rights of humans.
Not like cats. Cats appreciate power for power's sake. Also, cats don't poop everywhere, unlike dogs and Chinese children.
If you want to learn more about how the views of dogs are changing in China, check out this video below (or subscribe to China Uncensored for tons of informative videos). It does have more graphic imagery, though, and might be a bit upsetting.
(by Johnny McNulty)