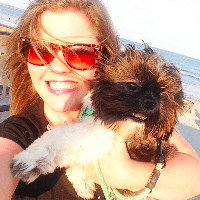 Filed by Missy Baker

|

Dec 15, 2015 @ 2:50pm
'Tis the season to watch our friends, family, and coworkers embarrass themselves on the dance floor after tossing back too much eggnog. Not everyone is in the mood to watch Grandma whip and nae nae, of course, but all humans want to see a dog bust a move. That's why you turn to the Internet. While there's no shortage of talented dogs online, this Boston Terrier is something special. In this video posted yesterday, the unnamed pup feels the Good Vibrations and busts out some early 90s dance moves over Mark Wahlberg's raps that are tight enough to rival any one of the Funky Bunch.